Discover more from Made Up by Shay.
Essays on Design, Tech & Everyday Life — written by a non-binary neurodivergent Product Designer.
The Birth of MakeStuffUp.Info
A quick overview on the project.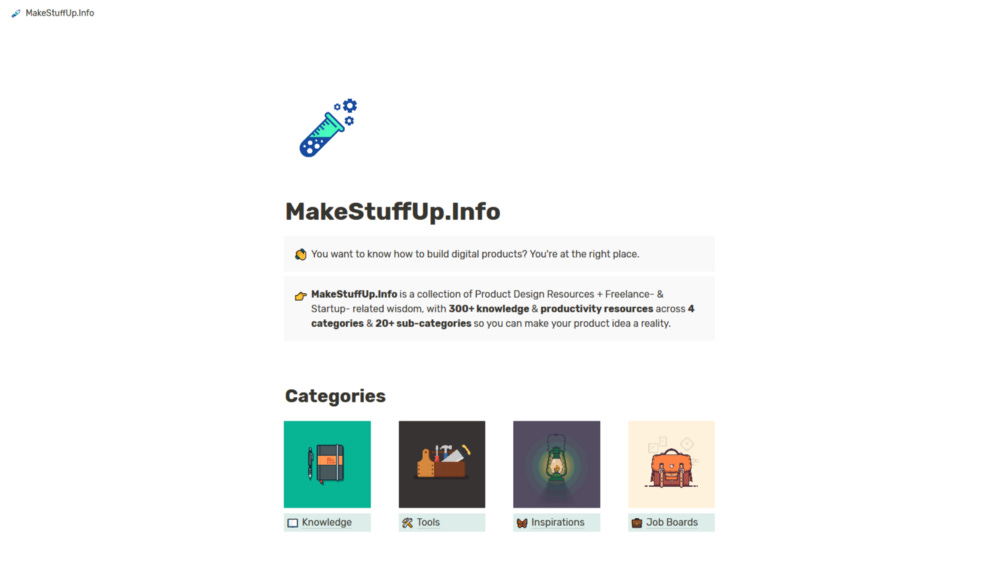 In December 2019, COVID-19 was first identified in Wuhan, China. Shortly after, the World Health Organisation officially declared a pandemic. As a result, millions of people around the world have lost their jobs, including tech workers; designers, marketers, product managers.
I… did not lose my job. I left my cushy startup job with the intention of going freelance full-time. Still, my leaving was untimely (or timely, depending on how you look at it). I'm grateful to be able to work from home, to have still gigs coming in, some consultation sessions here and there. I'm surviving. Before the pandemic, I was already preparing for a leaner lifestyle while starting my freelance business. Gratefully, I had some savings and most of all; I've had plenty of support from my family.
---
One of the first tasks I gave myself as a freelancer was to organise my Product Design resources. It quickly snowballed into a curated collection with more than 300 resources, giving me the ability to design a digital product from the Discovery Phase till launching an MVP. These resources are what I've been collecting during the last decade of my career; the articles I keep referring back to, the tools I keep using to help speed up my work, a few are just purely inspiring.
I don't know what compelled me to this decision, or if anyone else would find it helpful. Nevertheless, I decided to improve the quality of the collection, including looks and feel, and now sharing it with everyone.
---
Who Is This For?
Most design curating sites focus heavily on graphics and/or UI work. Instead, I wanted to create a collection that is about creating inclusive and ethical digital products. If you would like to make/market digital products or learn more about online business, this is for you. 👇
Product/UX/UI/CX, etc. Designers: I'm a productivity junkie so I packed in tons of productivity apps and plugins in here. I hope you find something that will become your new favourite tools. Even better, maybe you learn something new from the articles included that will change how you work entirely.

Product Managers: Hey, PMs ✊! If you want to learn more about design or how design can help the business, I also have plenty of stuff for you in here. The category structure is, in fact, designed to mirror the design process, so you can learn by exploring category-by-category. The more you learn, the more it will make sense.

Developers: see above. Although if you want to learn development, maybe you're at the wrong place. See you later if you change your mind 😀.

Product Makers: This is a rough time for everyone, more turbulent for Product Makers. I feel you. I hope this collection can help you save some time and money, and ultimately, help you build the best products you can make.

Entrepreneurs: This is a unique time to start a business. I applause you for your bravery. Like everyone else, I wish you the best on your journey. I'd be honoured if this collection helps you in any shape or form.
---
What's next:
I'll continue to update this collection as I create and learn. If you want to hear about updates, please subscribe! No spam, pinky promise.
There's no shortcut to building great products. It takes time, money, practice and a lot of reflections. I hope MakeStuffUp.Info at least will help you somewhere along your product journey so you can move faster and build more excellent products. I hope you success and maybe even create jobs for those who don't have jobs right now.
I'll be back! Until then, keep on makin' stuff up.