Living Fearlessly, Uncompromised
A story of realised dreams.
In a cold night of spring in Da Lat, my hometown, an old friend messages me the name of the coffee shop where we're meeting. It's located in a small alleyway across our old high school.
I take out my mum's old scooter for a short ride. Thirteen years old and falling apart, it rattles violently through a rough patch of the road. I take a detour like I always do when I'm in town. Da Lat is a small city, and I like riding the bike around just for the sake of it, to feel the cold air at nights and feel the nostalgia. The coffee shop is not hard to find.
---
Despite its faded looks, the shop is less than a year old, as many coffee shops that have been opened in the last few years during the city's economic boom. Many people from various places have migrated to the highland area to build something for themselves, to avoid the busy lives of bigger places like Saigon, to enjoy the cold air while it lasts, and maybe to find themselves. Da Lat is always a little romanticised in everyone's mind, it was dubbed "Little Paris" after all.
The shop is small and cosy, decorated with a couple of Buddha statues, which is why it's been mistaken for a religious place by a couple of people passing by. At the front, there are few wooden bar stools in contrast with some lower chairs in the back.
The owner looks to be in his mid-20s. He has the sweet voice of those who are born and raised in Saigon. A couple of artsy tattoos peeked out from his short-sleeved black shirt. He asks us what we would like to drink and then prepares the drinks in front of us while we're discussing old stories and new ones.
The drinks are different, but in a good way, which we enjoy thoroughly over our stories. In the background, a vinyl record spins.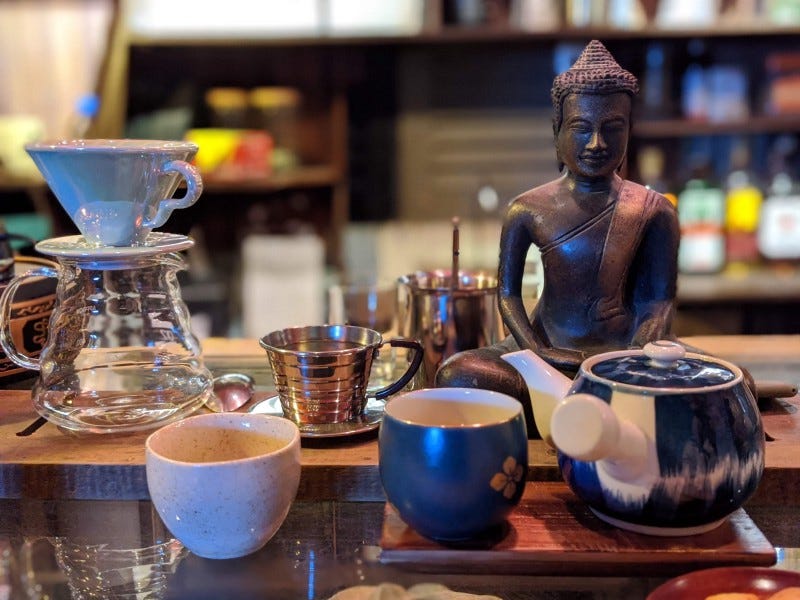 About an hour later, the owner starts getting more relaxed with us and begins to make conversations, occasionally licking his lips (somewhat violently). Since it was one of the last days of the lunar calendar, the shop had no customers but us. He seems to have realised that I am queer and overheard that my brother is a chef like he is. In the middle of the conversation, he came out as gay and tells us his story like we're old mates he hasn't seen in years.
---
He was born in Saigon, an old name of Ho Chi Minh City. After graduating from high school, he became a chef. He worked at a famous restaurant, where he got bullied for simply being new. As a result, he lost the feeling on the tip of his right index finger after an accident using the potato cutter. He later met and befriended a butch lesbian, who insisted on being addressed with male pronouns, so it is unclear if "he" was a lesbian or a trans man; a grey area due to the complicated pronoun system in the Viet language and the lack of gender-neutral pronouns.
He then visited big restaurants, spending large sums of money, which I suspected all he had, just to taste good food and to learn from the best. One of his signature drinks came from this time. Escaping the toxic environment of high-end kitchens, he opened a rice shop with his partner.
After a while, he decided to close up shop and move up to Da Lat. The coffee shop we're at is nothing like the popular, cookie-cutter style of the others' in town. He simply refused to conform. In his mind, the shop has to be his and his partner's; from the name of the coffee shop, which has deep meaning to him, to the decor. They did everything themselves, turning an old convenience shop to a "hip" coffee shop, turning the stock area into wooden shelves and a simple-looking bar where he would prepare egg coffee; a drink which he hates and yet one of the best egg coffee I've ever tasted.
He was determined, he knew what we wanted.
---
The shop is now stable with a decent customer flow, most of them come by frequently, but he's since broken up with his long-term boyfriend. I can hear the sadness in the slightly defeated tone when he mentions the break-up. I suspect he was waiting for someone that he could tell his story to, without judgement. But I could be wrong.
A few days later, I come back with another old friend, and I will probably come back to his shop again and again. Somehow it feels like a place where I could always have good conversations with old friends. This time he gives me a Spiderman envelope with some lucky money in it, even though it is usually the older ones to gift lucky money. It isn't much, but it's something that I'm likely to remember for a long time.
---
Once in a while, I think about him, the gay boy who is 2 years my junior, who left his life in a busier Saigon to move to a slower-paced city, having driven him crazy at first, just to have a little shop in an alleyway, with 10 frequent customers and some occasional new ones.
There may be no lesson in this story I'm telling, about this young man who gives me Johnathan Van Ness vibe. Someone who definitely had some hardships in his life that he couldn't possibly tell a stranger he just met, and uncompromising with what is his, not for money, not for anyone (He would ask you to leave if you show the slightest disrespect). I think I'm drawn to him because of that. In the last few years, many people have come to this town for financial gains, he didn't. I think he wanted a quieter life, in this little coffee shop of his, with great drinks and wonderful stories.